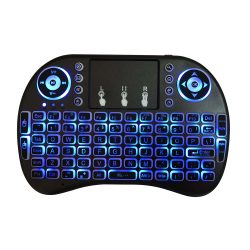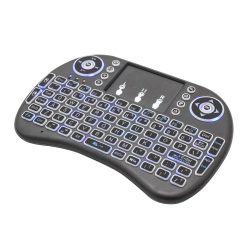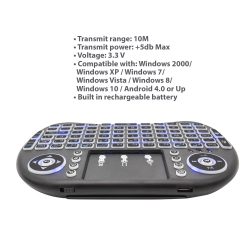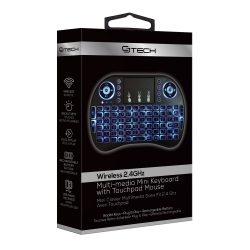 CJ Tech – Mini 2.4 Ghz Wireless Keyboard with Back Light
Wireless 2.4GHz
Multi-media Mini Keyboard
with Touchpad Mouse
Backlit Keys • Plug & Play • Rechargeable Battery
This multi functional mini Keyboard is the perfect wireless communication device that can be used to control your Smart TV, PC, Laptop, Gaming Console, Android box and more!
The 2.4 Ghz wireless connection gives you the freedom to operate this unit upto 10 meters Backlit keys make it easy for viewing at night time or in low light areas. Also included is a high sensitive touchpad you can use to control your device making it easy to browse the internet or play games
Internal lithium-ion battery will give you over 24 hours of usage and up to several weeks standby with one full charge.
24h free delivery
(US & Canada)
• Transmit range: 10M • Transmit power: +5db Max • Voltage: 3.3 V • Compatible with: Windows 2000 / Windows XP / Windows 7 / Windows Vista / Windows 8 / Windows 10 / Android 4.0 or Up • Built in rechargeable battery WIRELESS BACKLIT KEYS PLUG & PLAY RECHARGEABLE BATTERY USB NANO RECEIVER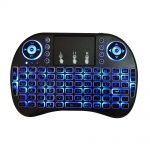 CJ Tech – Mini 2.4 Ghz Wireless Keyboard with Back Light